About West Central Outfitters, LLC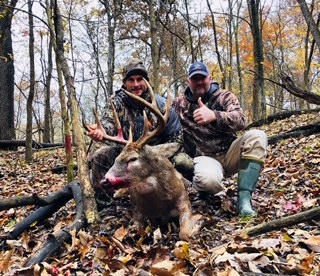 West Central Outfitters is located just outside the small town of Pittsfield Illinois in Pike County. We have been operating for eighteen years. We are situated between the Mississippi and Illinois rivers. Farmland with a mix of hardwood and crp make up what is known to be some of the best deer habitats in the world. Our hunts are conducted on managed and well-known farms in the county. We have a 140-inch minimum on bucks taken with a 1,000-dollar penalty for bucks under 140.
We take our management seriously to ensure the future of our herd. We pride ourselves on not being commercialized giving folks the hospitality and friendship they come to expect and enjoy. We have had a good success rate and a high return of clients since we started. We offer comfortable lodging with all our hunts and each lodge is located on the farms we hunt. Most all clients have an opportunity to harvest a great deer and take home an experience that will last a lifetime.
We hope your next hunt will be with us and as always we thank you for giving us a look.
We like to answer questions, so don't hesitate to get in touch!